Please note: the pricing information below is subject to change, based on web site needs
web site design and development services
initial web design consultation & estimate
We provide your initial consultation free of charge, and in most cases the "Estimate Fee" is waved! If charged, the fee is for estimate preparation based on project complexity and time incurred to determine enough about your project to estimate it. The fee is due and payable upon estimate delivery. Paid fee will be deducted from total project cost and applied to your first invoice, upon signing of Agreement.
Estimate will be included in signed Agreement. Additional work beyond scope of Agreement will incur additional fees and will be quoted to you in writing.

website setup, design, and development
service
price

Domain Name Registration

by VivioTech.net


"Domain Name" refers to your Web site address (ex: www.mydomain.com). This account is created with, and payments made directly to, VivioTech.net. While we recommend VivioTech.net, you are free to register your domain with any registrar of your choice.

Varies by extension

Adobe ColdFusion 2016 Web Site Hosting




Includes $15/mo required (non customer-requested) maintenance. "Hosting" refers to the online storage space for your Web site and e-mail (ex: info@mydomain.com). "ColdFusion" refers to the programming language we use to write the code for your Web site. ColdFusion, a technology created by Adobe Systems, Inc., is what enables the *very* wide-range of features that we can add to your Web site. Building your Web site using Adobe ColdFusion saves you money, over the alternatives, because it includes so many features out-of-the-box - reliable Adobe-backed features which normally require the purchase of additional (often quite expensive) software licenses.

$35/month*

Web Site Setup & Design




Includes hosting setup, initial planning, site structure/navigation layout, 1 page design template, and up to 2 revisions of the design template.

$1000*

Web Site Development




Available discounts: Purchase an 11-15 page site, and save 10% per page. Purchase a 16-20 page site, and save 15% per page. Purchase a 21+ page site, and save 20% per page.

$250/page*

Web Site Maintenance




Covers all customer-requested maintenance (updates).

see "ongoing maintenance"

Additional Changes




Includes work not covered under setup/design/development/maintenance above. Typically this is for significant modifications to the Web site, after the site has been completed, which would not be considered regular maintenance/updates..

see "ongoing maintenance"
* - This is the starting rate for smaller/simpler sites. Based on site needs & complexity, this rate may change.
ongoing website maintenance
service
price

Contracted Maintenance Retainer




"Contracted Maintenance Retainer" refers to a regularly-billed maintenance plan. Payments are typically automatically processed on the 1st of each month. However, other payment plans, such as quarterly and yearly, are available.

$60/hour

Non-Contracted Maintenance




"Non-Contracted Maintenance" refers to maintenance that is performed when no Contracted Maintenance Retainer is in place. This rate is subject to change at any time.

$100/hour
optional, 3rd-party, website services
These are 3rd-party services. Accounts are created with, and payments made to, each directly.
service
price

Search Engine Submission and Site Marketing




"Search Engine Submission" refers to notifying certain search engines (ones which support this) about your Web site. "Site Marketing" refers to paid online advertising (ex: Google AdWords and Yahoo! Search Marketing).

rates vary

SSL Certificates

by IBM.com


An SSL Certificate activates a Web browser's (ex: Chrome, Firefox, Edge, Safari, etc) "padlock icon" and offers security (via something called "encryption") for your Web site. This provides, to you, a competitive edge, since site visitors/customers recognize this "padlock icon" as an indication that your site is trusted, and that the information they submit on your Web site cannot be tampered with.

$35/year
** - This is the starting rate for the base hosting plan. Additional hosting plans, with more features, are available.
additional services offered to clients
We also offer print design, custom computers, photography, & audio/video services to our Web design and development clients. Certain restrictions apply. Please contact for details.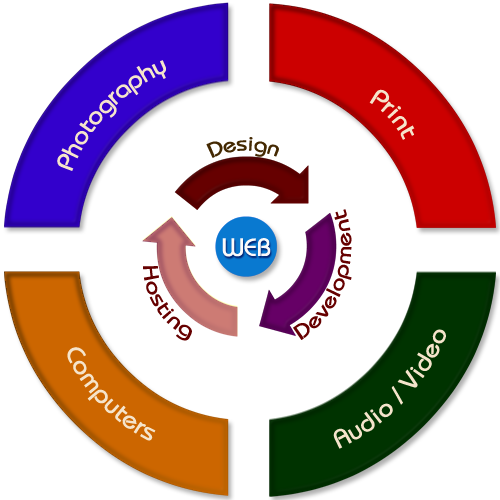 Click here to continue to our
website development and print design portfolio